My Blog
Posts for: March, 2018
By David E. Shapiro, DMD
March 16, 2018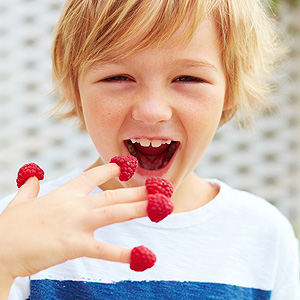 Want to give your kids the best start possible for a lifetime of good dental health? The most important thing you can do is train them in effective brushing and flossing. It's more than having a nice smile and fresh breath: these hygiene tasks remove the daily buildup of bacterial plaque, the primary cause for both tooth decay and periodontal (gum) disease, which are most responsible for poor oral health.
But those aren't the only habits they should be cultivating. Here are 3 tips for helping your child develop great dental health habits.
Encourage healthy eating. Teeth and gums are like other parts of the body: they need the "building blocks" found in nutritious foods to help grow strong, healthy tissues. By focusing on a diet leaner on processed items and richer in whole, less-processed vegetables, meats and dairy products, you'll be helping your child build strong defenses against dental disease.
Keep sugary snacks under control. Of all the items in your child's diet, sugar could have the greatest impact on their teeth. Disease-causing bacteria thrive on this particular carbohydrate, multiplying and producing mouth acid—the main enemy of tooth enamel—as a byproduct. So, limit sugary snacks as much as possible, opting instead for more nutritional between-meal treats. In fact, try to make sure they only consume sugary treats at mealtime, not in between.
Encourage an end to thumb-sucking or pacifiers by age 3. Most infants and very young children suck their thumbs or, alternatively, a pacifier. There's no harm in this habit unless it extends into later childhood where it could affect their bite. You can avoid this outcome by encouraging your child with mainly positive reinforcement to stop sucking their thumbs or other objects before their third birthday. Your dentist can also help with tips and support in those efforts.
If you would like more information on dental care for your child, please contact us or schedule an appointment for a consultation. You can also learn more about this topic by reading the Dear Doctor magazine article "Help your Child Develop the Best Habits for Oral Health."
By David E. Shapiro, DMD
March 01, 2018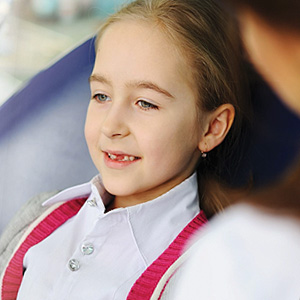 At any given time some 4 million teens and pre-teens are wearing braces or other orthodontic appliances to correct a malocclusion (poor bite). While most cases are straightforward, some have difficulties that increase treatment time and cost.
But what if you could reduce some of these difficulties before they fully develop? We often can through interceptive orthodontics.
This growing concept involves early orthodontic treatment around 6 to 10 years of age with the goal of guiding the development of a child's jaws and other mouth structures in the right direction. These early years are often the only time of life when many of these treatments will work.
For example, widening the roof of the mouth (the palate) in an abnormally narrow upper jaw takes advantage of a gap in the bone in the center of the palate that doesn't fuse until later in adolescence. A device called a palatal expander exerts outward pressure on the back teeth to influence the jawbone to grow out. New bone fills in the gap to permanently expand the jaw.
In cases with a developing overbite (the upper front teeth extending too far over the lower teeth when closed), we can install a hinged device called a Herbst appliance to the jaws in the back of the mouth. The hinge mechanism coaxes the lower jaw to develop further forward, which may help avoid more extensive and expensive jaw surgery later.
Interceptive treatments can also be fairly simple in design like a space retainer, but still have a tremendous impact on bite development. A space maintainer is often used when a primary ("baby") tooth is lost prematurely, which allows other teeth to drift into the empty space and crowd out the incoming permanent tooth. The wire loop device is placed within the open space to prevent drift and preserve the space for the permanent tooth.
To take advantage of these treatments, it's best to have your child's bite evaluated early. Professional organizations like the American Association of Orthodontists (AAO) recommend a screening by age 7. While it may reveal no abnormalities at all, it could also provide the first signs of an emerging problem. With interceptive orthodontics we may be able to correct them now or make them less of a problem for the future.
If you would like more information on orthodontic treatments, please contact us or schedule an appointment for a consultation. You can also learn more about this topic by reading the Dear Doctor article "Interceptive Orthodontics."